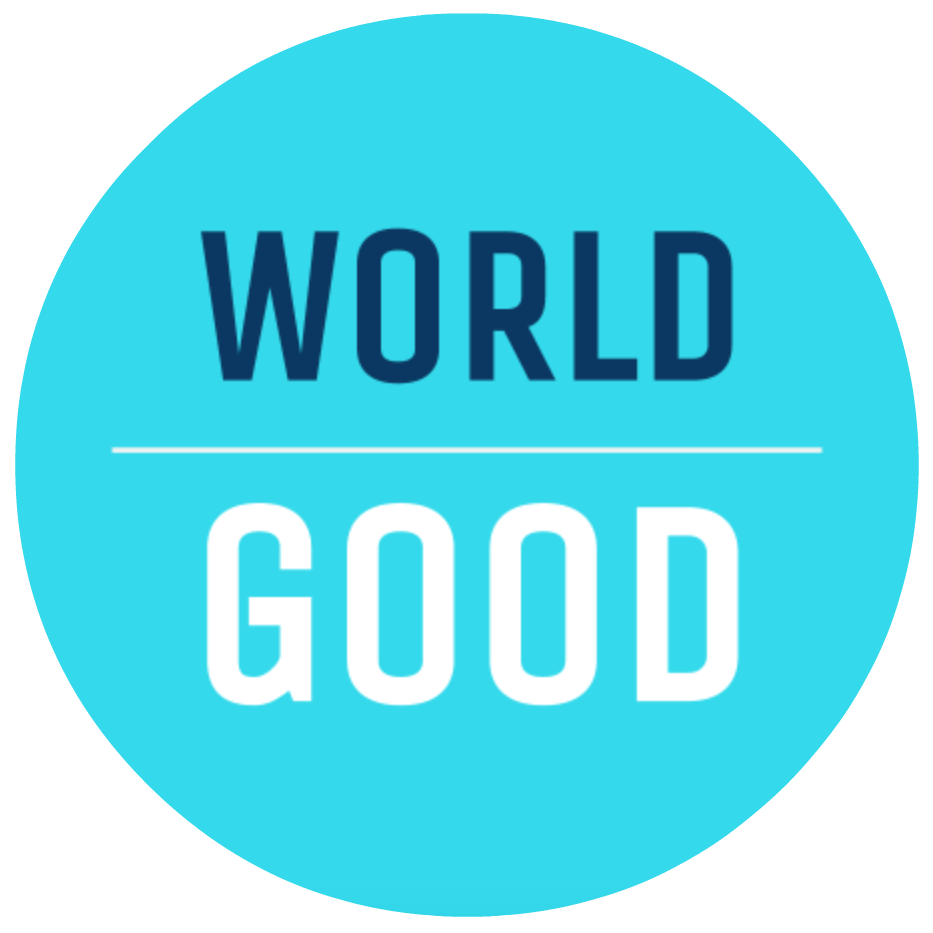 WEEKS OF WORLD SERVICE
evolving together through universal energies and waves of world service
PLAYING AND COLLABORATING WITH THE ENERGIES AND WEEKS OF WORLD SERVICE
One of the most magical discoveries of the world of energy's impact on our capacity to do good is that there are waves and cycles of different energies that we can ride to do different things at different times "in the flow". We've all felt that flow at some point in our lives… We can experience it every month by hooking up with and riding the waves of the Weeks of World Service.
THE WEEK AND WAVE OF WORLD SERVICE AS A WINDOW FOR MORE COLLABORATION AND IMPACT
The monthly Week and Wave of Service is a window to "go bigger" with doing good as citizens of the world in more magical ways – cooperating consciously with the evolving lives of the one humanity and the planet and even with the energies of the solar system and the stars.
Our planet is a life – just as we are – traveling and trekking on its path of evolution through the solar system and our Milky Way Galaxy as part of our shared story of evolving together. It is moving through space cyclically and rhythmically all the time. And as part of our shared evolution story, we are all passing through streams of energy all the time. One of the most important streams comes to us via our planet depending on where it is in space each month, creating 12 different streams with distinct qualities and opportunities. Through learning about the world of energy and its waves, we can know what streams we are passing through when. As we pass through these streams, we pick up their light and share that light with others, which brightens their paths. And through the magic of the world of energy, this brightening is amplified when we are conscious we are doing it. This opportunity is particularly high every month during the Weeks of World Service. Purposely riding the waves of the Weeks of World Service is one of the most meaningful and powerful ways we can help ourselves, our families, our communities, humanity and our planet thrive and evolve together.
Every Week of World Service is centered around a monthly solar peak event and the energies that are streaming onto our paths as part of our shared planetary path of evolving together.
WAYS OF BEING PART OF THE WEEKS OF WORLD SERVICE AND COOPERATING WITH THEIR ENERGIES
1 – PARTICIPATE IN THE MONTHLY SOLAR PEAK PRACTICE
One of the most magical ways to collaborate with the energies of world service and support our shared path of evolving together is by participating in the monthly solar peak practice. There are many ways to participate with the solar peak. Here is a good approach:
Participate individually – and for greater impact gather in groupings of 3 or more – in the spirit of World Service in person or virtually for the solar peak practice.
The dates and times of each solar peak through January 2019 are listed below. The incoming month's is highlighted in aqua blue. Much about the world of energy has been hinted at or described through the ages through poetry and fables and, in more modern times, through movies. Many people love a good adventure story. Each month's available energies are an energy adventure trek that reveals something about the magic and nature of each month for those who are called to catch the wave.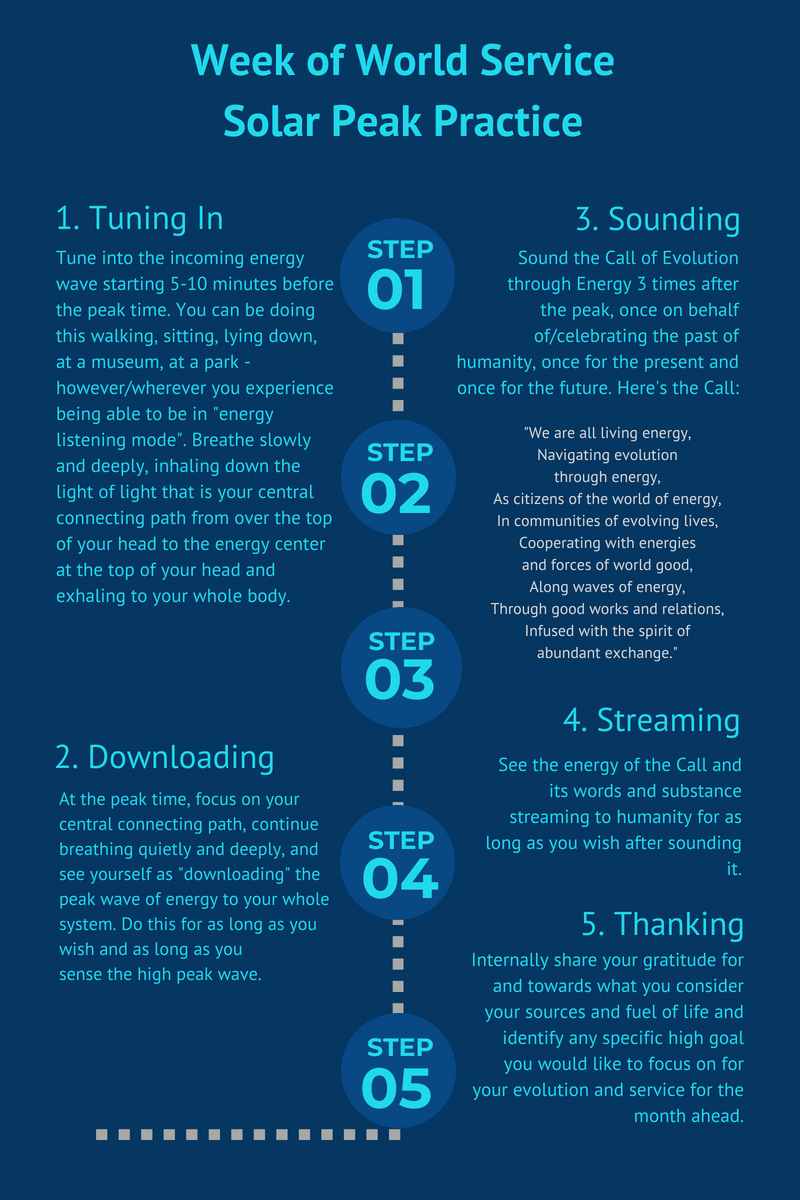 2018 DATES OF WEEKS OF WORLD SERVICE SOLAR PEAK DATES + TIMES
the next incoming peak is highlighted in blue
JANUARY 2018
Jan 01, 2018 – 9:24 pm eastern time
Directed Purpose
through Initiation
JANUARY-FEBRUARY 2018
Jan 31, 2018 – 8:27 am eastern time
Directed Purpose
through Service
MARCH 2018
Mar 01, 2018 – 7:51 pm eastern time
Directed Purpose
through Mediation
MARCH – APRIL 2017
Mar 31, 2018 – 8:37 am eastern time
Directed Purpose
through Manifesting Impulse
APRIL – MAY 2018
April 29, 2018 – 8:58 pm eastern time
Directed Purpose through
Illuminating Will
MAY – JUNE 2018
May 29, 2018 – 10:20 am eastern time
Directed Purpose through
Interplay  of Contrast
JUNE – JULY 2018
Jun 28, 2018 – 12:53 am eastern time
Directed Purpose
through Form-Building
JULY – AUGUST 2018
Jul 27, 2018 – 4:20 pm eastern time
Directed Purpose
through the Soul in Form
AUGUST – SEPTEMBER 2018
Aug 26, 2018 – 7:56 am eastern time

Directed Purpose of
Nurturing Wisdom
SEPTEMBER – OCTOBER 2018
Sep 24, 2018 – 10:52 pm eastern time

Directed Purpose
through Balance
OCTOBER – NOVEMBER 2018
Oct 24, 2018 – 12:45 pm eastern time
Directed Purpose
through Liberating Revelation
NOVEMBER – DECEMBER 2018
Nov 23, 2018 – 12:39 am eastern time
Directed Purpose
through Clarity of Aim
DECEMBER 2018 – JANUARY 2019
Dec 22, 2018 – 12:49 pm eastern time
Directed Purpose
through Initiation
Dec 2018 - Jan 2019 Solar Peak
contact:
good@worldgood.org